Domestic Care If you or your loved one is finding your daily household chores more physically demanding and tiring, our domestic care service is here to lend you a helping hand keeping your home clean and tidy with one-off or regular visits.
It can be a great help to hand over the daily chores to a Gabriel's Angels carer. This relieves the pressure of housekeeping and allows you to spend valuable time and energy on the more important things in life, while having peace of mind that your home will be maintained to the standards that you expect.
Our expert carers can support with such daily tasks as:

Vacuuming, dusting and polishing
Laundry and ironing
Changing bed linen
Cleaning kitchens and bathrooms
Shopping and running regular errands
Food and drink preparation
Washing up
General tidying and other household duties
We understand that everyone in our care is unique. This is why you and your loved ones will have complete control and final say on the support that our carers provide, allowing us to carry out your daily tasks to your specific requirements and standards at a time that suits you.
get in touch
How our domestic care service works
First, our team will get to know you as a person. We understand that it can be hard to hand over the maintenance of a home that you have managed for a long time, so we take extra care to ensure that all of your needs are met in a way that suits you.
Then, we plan the best course of action. If there is a certain day that you are used to having fresh laundry ready, or if there is a certain mealtime routine that needs to be followed, our team of expert carers will create a domestic care plan that is tailored to your needs.

Despite all the planning in the world, we know circumstances and lives change. We want to make sure that you and your loved ones are satisfied that the support that you're receiving, so that is why we provide flexible care that is designed to fit a changing schedule.

Each member of our personal care staff is expertly trained to assist in all manner of daily domestic care, but we understand that there are occasions when you would prefer to do things yourself. This is no issue whatsoever, we provide a service that is respectful of your needs while encouraging independence wherever we can.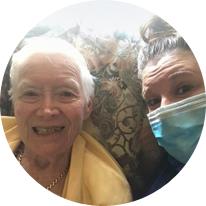 L Green
Wokingham, Berkshire

I have used Gabriel's Angels for the last 4 years for my mothers care. Every single carer has gone above and beyond our expectations as a family. They are very thorough in the care they provide. They ensure my mother maintains as much independence as possible. We as a family have peace of mind that Gabriel's Angels carers are supporting my mother. I am very impressed and can highly recommend them to anyone.

Read More Testimonials
Why Choose Gabriels Angels?
We strongly believe in 'family' here at Gabriels Angels – as a family-owned business, we fully understand the importance of having a degree of familiarity and loved ones to call upon when needed. We reflect these family values in the domestic care service we provide, becoming a part of your extended support network and giving you the support you need to enjoy your life.
Whether it's a one-off day of chores to help support you when getting back on your feet, or regular visits for the upkeep and maintenance of your home, we can provide the right carer for you. You will receive highly tailored, personally planned care, supported by a dedicated Gabriel's Angels Care Manager to help provide additional expert advice.
Our clients are assured of exemplary care and improved quality of life, as all of our carers are trained to the same high standard with the most up-to-date medical and nursing research. So no matter what support you're receiving, you can be sure that you are in good hands with Gabriel's Angels.